Book CMC to Bangalore, Mysore & Coorg 4 Days - Sightseeing Tour
CMC to Bangalore, Mysore & Coorg Cabs and Vans
Karthi Travels has had its presence in chauffeur-driven car rental sector for more than 30 years. We continuously strive to ensure that we provide reliable, quality and timely cab services. We have wide range of car options right from sedans to hatchbacks and Vans.
You can book any type of car or traveller for your CMC to Bangalore, Mysore & Coorg taxi service depending on your requirement. You can easily book CMC to Bangalore, Mysore & Coorg cabs at Karthi Travels 24/7 without any hassle with our easy-to-use booking interface. Book our CMC to Bangalore, Mysore & Coorg cab service and rest assured you will get quality & reliable services for your Car Rental from CMC to Bangalore, Mysore & Coorg.
Avail CMC to Bangalore, Mysore & Coorg car hire and van hire services at Karthi Travels and enjoy a great trip with family and friends.
Make the best use of the services offered by Karthi Travels at the best rates & experience the relaxing and trouble free journey by hiring CMC Bangalore, Mysore & Coorg or Katpadi Bangalore, Mysore & Coorg taxi at Karthi Travels. With over a decade of experience in car and van rental services, Karthi Travels is the best cab service provider in the industry, if you are planning to book a taxi.
CMC to Bangalore, Mysore & Coorg by Car or Traveller
We will ensure that your journey is comfortable and you may halt at your convenience anytime, anywhere for a short break during the journey on road.
We also launch few offers during certain seasons and holidays. We try to provide you excellent deals from time to time to help you travel in the cheapest possible fares. With our user-friendly website, you can book taxi online in a few simple steps and avail hassle free car and van rental service. Travel from CMC to Bangalore, Mysore & Coorg with Karthi Travels and have a pleasant journey.
CMC to Bangalore, Mysore & Coorg Car and Van Rental Options
At Karthi Travels Car and Van Rentals, you will get many options of car types and travellers to choose for hiring a taxi from CMC to Bangalore, Mysore & Coorg. Some of the popular car models include Indica, Etios, Innova, Traveller and many others. The table below highlights the various car model options available which you can choose for CMC to Bangalore, Mysore & Coorg cab booking.
| | | |
| --- | --- | --- |
| Taxi Type | Capacity | Suitable For |
| Tata Indica | 4 passengers | Budget Travellers |
| Toyota Etios | 4 passengers | Sedans for Small Families |
| Chevrolet Tavera | 6/9 passengers | Travelling in Small Group |
| Force Traveller | Upto 12 passengers | Travelling in Large Group |
With our well-mannered drivers and great fares, we promise you a wonderful journey. For any further details on CMC to Bangalore, Mysore & Coorg car and Van rental, please call us on +919655502002.
CMC to Bangalore, Mysore & Coorg Cab Package
At Karthi Travels you get the best deals for your CMC to Bangalore, Mysore & Coorg cab package. The cab package at Karthi Travels is sure to be affordable for you. You can avail the package depending on the itinerary available.
The details corresponding to the tours opted will be available to you once you make the booking. Karthi Travels's services are also available for local and outstation travel. You can book outstation cabs and vans and travel to popular destination of your choice and interest.
CMC to Bangalore, Mysore & Coorg Taxi Fare
We pride ourselves on transparency. With no hidden charges, great cab service at very affordable rates, we offer you the best prices as compared to any other player in the industry. Karthi Travels believes in making travel extremely convenient for customers and we fully understand that the CMC to Bangalore, Mysore & Coorg cab fare is an important parameter when you make the decision to book a taxi.
Your CMC to Bangalore, Mysore & Coorg taxi fare will never be a burden on your pocket. You can contact us on +919655502002 for any enquiry or to get more details on CMC to Bangalore, Mysore & Coorg cab fare. We will also help you plan your trip in the most efficient way possible.
Karthi Travels's Promise of Quality
1. Affordability: Karthi Travels is the best car and Van rental provider in CMC, if you are looking for an affordable taxi fare from CMC to Bangalore, Mysore & Coorg.
2. Courteous Drivers: We promise to provide you reliable taxi service with our professional drivers.
3. Timely Availability: Karthi Travels always guarantees timely availability of taxi service.
4. Services across CMC: With excellent services for cabs from CMC to Bangalore, Mysore & Coorg Karthi Travels's operation is available across all major towns in CMC.
5. Wide Range of Cars: You can choose a taxi or Van from a wide range of cars and Vans like Indica, Tavera Sedan and Traveller.
CMC to Bangalore, Mysore & Coorg Tour
Karthi Travels's continuous focus on complying with customer demands and travel needs have positioned us as a true customer-centric player in the road travel/tourism sector. In order to make customers outstation travel truly memorable, we offer several CMC to Bangalore, Mysore & Coorg cab and Van tours. Our website is continuously updated with the new seasonal tours that are launched. You can also call us to explore the various tour from CMC to Bangalore, Mysore & Coorg. After choosing any of these tours from CMC to Bangalore, Mysore & Coorg, you can be assured that you are getting the most efficient rates, the most courteous and experienced drivers as well as Karthi Travels's guaranteed service levels. Customers are provided with options for one way, single day as well as multi-day car and Van tours from CMC to Bangalore, Mysore & Coorg.
About Kodagu
Kodagu is an administrative district in Karnataka, India. Before 1956 it was an administratively separate Coorg State, at which point it was merged into an enlarged Mysore State. It occupies an area of 4,102 square kilometres (1,584 sq mi) in the Western Ghats of southwestern Karnataka. In 2001 its population was 548,561, 13.74% of which resided in the district's urban centres, making it the least populous of the 30 districts in Karnataka.
The district is bordered by Dakshina Kannada district to the northwest, Kasargod district of Kerala to the west, Hassan district to the north, Mysore district to the east, Kannur district of Kerala to the southwest, and the Wayanad district of Kerala to the south. Agriculture is the most important factor that upholds the economy of Kodagu and the main crops cultivated in this region are rice and coffee. Coorg is rich in natural resources which included timber and spices. Madikeri (English: Mercara) is the headquarters of Kodagu.
Kodagu is known for its coffee and its people. The people include indigenous (Kodavas) and other ethnic groups (Arebashe Gowdas and Kodava subgroups). The chief languages presently spoken in Kodagu are Kodava, Are Bhashe, Tulu and Malayalam. Kodagu is home to the native speakers of the Kodava language.
About Mysore
Mysore, also known as Mysuru, is Karnataka's second biggest city, situated in Southern India. It was the erstwhile capital of the Wodeyar dynasty and is considered the cultural capital of the state. Mysore is the cleanest city in India and one of the most well-planned ones. The people of Mysore are famous for their peaceful attitude and helpful nature.
About Bangalore
Bangalore, officially called Bengaluru, is the capital of Karnataka. It is the second fastest growing metropolis of India and also the fourth highest GDP contributor after cities like Mumbai, Delhi, and Chennai. Bangalore is popularly known as the 'Silicon Valley' of India for being a major IT hub of the nation.
IT moguls like Wipro and Infosys have their headquarters in the city. The bustling cosmopolitan city with an all-year-round pleasant climate has many cafes, shopping malls and restaurants for a luxurious and upscale lifestyle.
There are many notable institutions located in the city such as Defense Research and Development Organization (DRDO), Indian Space Research Organization (ISRO), Indian Institute of Science (IIS), Indian Institute of Management (IIMB), National Aeronautics Laboratory (NAL) and National Law School.
The city also has some wonderful tourist hotspots like the Bangalore Palace, Lal Bagh, Bannerghatta National Park, Innovative Film City and Cubbon Park.
List of Sightseeing Places in Kodagu
Traveller in CMC Traveller Van in CMC CMC Travels Book Traveller in CMC Force Traveller CMC Tempo Traveller CMC Maxicab in CMC Maxicab CMC
Abbey Falls
About Abbey Falls
Abbey Falls (also spelled Abbi Falls and Abbe Falls) is in Kodagu, in the Western Ghats in Karnataka. It is located 8 km from the Madikeri, 122 km from Mysore, 144 km from Mangalore and 268 km from Bangalore.
The river is part of the early reaches of the river Kaveri. Flow is much higher during the monsoon season.
The waterfall is located between private coffee plantations with stocky coffee bushes and spice estates with trees entwined with pepper vines. A hanging bridge constructed just opposite the falls.
The falls was earlier called Jessi falls, named after a British officer's wife. However, the place was a thick jungle area back then. Years later, the waterfall was discovered by Mr. Neravanda B.Nanaiah who bought the place from the government and converted it into a coffee and spices plantation that surrounds the waterfall today.
Raja's Seat
About Raja's Seat
Raja's Seat (Seat of the King) is a seasonal garden of flowers and artificial fountains. It is one of the most important tourist spots in Madikeri of Coorg District. It is 270 km away from Bangalore, the capital of Karnataka.
A pleasant spectacle of refreshing layers of greenery, chain of high and low-rise-mountains attired with mist, the Raja Garden was a one-time-favorite of the kings of Kodagu who used to watch the setting sun, and spend time with their queens here. It is shaped like a small square in brick and mortar, with four pillars bridged by arches, enhanced by beautiful surroundings. This lovely spot was a favorite place of recreation for the Rajas and hence was permanently associated with them. It is built on a high level ground with a commanding view of the cliffs and valleys to the west. Early in the morning as the sun is just rising in the east, the mist shrouded valley below offers a rare sight. The golden light of the setting sun is a splendor to watch. There is also a Toy Train for children.
Madikeri Fort
About Madikeri Fort
This 19th century fort, in the centre of Madikeri, houses a Ganesha temple, a chapel, a district prison and a small museum. The fort offers a beautiful view of Madikeri. This fort is one of the most beautiful places to visit during the trip to Coorg. Initially this fort was built by mud and later on mud was replaced by the concrete stone, by the great king Tipu Sultan.
According to an official explanation board at the site, Mercara, the headquarters of Coorg or Kodagu district, was founded by Prince Mudduraja of the Haleri Dynasty in 1681 CE, and was named after him as Muddurajanakeri -- which became "Muddukayray" and Madikeri over time. The British termed the place Mercara.
Traveller in CMC Traveller Van in CMC CMC Travels Book Traveller in CMC Force Traveller CMC Tempo Traveller CMC Maxicab in CMC Maxicab CMC
Bagamandala
About Bagamandala
At a distance of 39 kms from Madikeri, 8 kms before reaching TalaKaveri, Bhagamandala is on the banks of the confluence of three rivers, Cauvery, Kannike and the sub terranian Sujyoti, popularly known as "Triveni Sangama". The famous Sri Bhagandeswara temple is located on the bank of the river over here. Pilgrims visiting Bhagamandala bathe (or sprinkle water on your head) in the Triveni Sangama, confluence of rivers and worship at the temple complex. Watch out for the wooden carvings in the temple. The subrahmanya idol in the temple is a swayambu and the temple was established by a rishi named Bhagamandala. The temple serves free lunch - you get rice, sambar and buttermilk. Not a lavish lunch, but a clean,simple vegetarian option instead of the poorly maintained restaurants in the neighbourhood
Talacauvery
About Talacauvery
River Kaveri which is one of the 7 sacred rivers of Sapta Sindhus of the Hindu scriptures, originated at a place is called Talakaveri (head of Cauvery) in the Brahmagiri hills, at about 4,500 ft above sea level. This place is marked by a tirtha kundike or Brahma kundike (small spring/pond) from where the river emerges as a small perennial spring, but flows underground again to emerge a short distance away. It is about 48 km from Madikeri.
There is a shrine near the kundike and a big tank in front of it where devotees baths before offering prayers. There are 2 temples, a Shiva temple and with a rare and ancient Shiva Linga, and another temple dedicated to Lord Ganesha. This temple has a holy Ashwantha tree where, according to legend, the Trimurtis - Brahma, Vishnu and Mahesh gave darshan to sage Agastya
List of Sightseeing Places in Mysore
Traveller in CMC Traveller Van in CMC CMC Travels Book Traveller in CMC Force Traveller CMC Tempo Traveller CMC Maxicab in CMC Maxicab CMC
Mysore Palace
About Mysore Palace
Intricately carved rosewood doors and ceilings some with inlaid ivory work, marble figurines, collections of caskets, paintings of the members of the royal family and other objects of personal use exhibit such opulence,though age as worn them out a bit with slight discolouration. On Sundays and national holidays between 7:00 PM-7:45 PM the palace is illuminated by close to 100,000 bulbs. Entry is from the south side. Cameras must be left at the cloak room, now there are no charges to deposit the cameras.Shoes must be left before the entrance for free.Out side palace photography is allowed Rs. 50 for Indian nationals, Rs. 200 for foreigners.
Brindavan Gardens & Krishnaraja Sagara Dam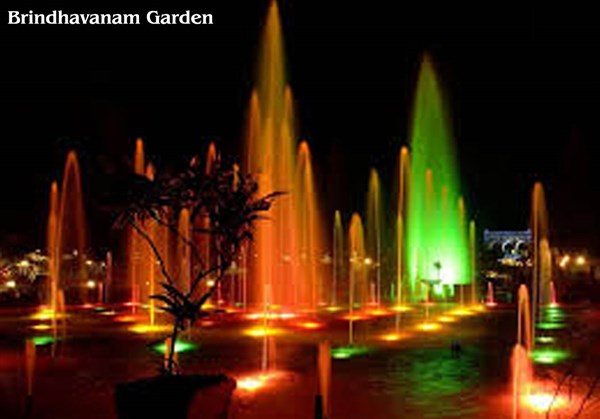 About Brindavan Gardens
Brindavan Gardens and Musical Fountain at the Krishna Raja Sagar Dam. Nice garden full of fountains, in the neighbourhood of Mysore. At 7 PM the "musical fountain" light and music show begins. It is an extremely scenic and well-maintained garden. It also has a great aquarium that has rare varieties of fishes. If you want to go here via bus, the name of the bus stop is: Main Bus Stand, KR circle.
Chamundi Hills
About Chamundi Hills
Chamundi Hills has a temple of Goddess Chamundeshwari (or Chamundi). The huge Nandi sta top are available. Atop the hill, Goddess Chamundi's idol is placed in a beautiful temple with marvelous architecture. It is a plastic free zone. Air Conditioned Volvo buses are available to Chamundi Hill and back from the city bus stand every twenty minutes. The charges are very nominal. Rs. 20 for regular queue (typically longer) . Rs 100 for shorter queue.
List of Sightseeing Places in Bangalore
Traveller in CMC Traveller Van in CMC CMC Travels Book Traveller in CMC Force Traveller CMC Tempo Traveller CMC Maxicab in CMC Maxicab CMC
Lalbagh
About Lalbagh
The Lalbagh Botanical Garden, Bangalore is of royal origin and was started initially as a private garden in an area of 40 acres by Hyder Ali, one of the most famous rulers of old Mysore in 1760. Initially designed in Mughal style, on the model of an extensive garden at Sira in Tumkur near Bangalore, this garden was further developed by Hyder Ali's son Tipu Sultan and subsequently by the British and Indian doyens of horticulture by extension of area and addition of a number of plant species. Of them, Major Waugh, Dr. Wallich, William Munroe, Sir Mark Cubbon, Dr. Cleghorn, William New, A. Blck, John Cameron, Krumbeigal, Rao Bahadur H.C. Javaraya, K. Nanjappa and Dr. M.H. Marigowda, as the Superintendents of the garden, have made noteworthy contributions to the development of Lalbagh.
Lalbagh is currently under the aegis of the Directorate of Horticulture, Government of Karnataka. The Directorate is housed amidst the splendid environs of the botanical garden. Lalbagh was given the status of a Government Botanical Garden in 1856, and since then, it has been an internationally renowned centre for scientific study of plants and botanical artwork and also conservation of plants. Formal and informal styles dominate the garden in perfect harmony, which is a testimony to the beauty of nature. Today, the garden is a lush green paradise with an area of 240 acres in the heart of the city.
Cubbon Park
About Cubbon Park
Cubbon Park was basically designed as a public park in an area of about 100 acres and expanded over the years. The park has a predominant green area with a few concrete buildings, housing government and other organizations' offices. The park has many motorable roads. It also has well laid out walking paths running through the park. It serves as a nature public park, at the same time aims at protecting the environment and greenery. It is a major lung space of Bangalore and a location for early morning walkers, so also for naturalists who study plants in the serene natural environment.
Iskcon Temple
Tour Cost
| | |
| --- | --- |
| Cab Type | 4 Days Tour Cost |
| AC Economy (Indica) | Starts from ₹ 17,658.00 |
| AC Tavera | Starts from ₹ 26,198.00 |
| AC Traveller | Starts from ₹ 35,963.00 |
Traveller in CMC Traveller Van in CMC CMC Travels Book Traveller in CMC Force Traveller CMC Tempo Traveller CMC Maxicab in CMC Maxicab CMC
Cost inclusions :
Vehicle Rent, Driver Wages, Diesel, Toll, Inter-state permit and Entry taxes if any
Cost exclusions :
Entry fees in tourists sites, Food, Personal Expenses and Accommodation.
Note :
• We can arrange accommodation on request at discounted price.
• The above tour cost is limited up-to 1,000 Kms run, overage will be charged as follows
Traveller : ₹ 24.00 / Km | Travera : ₹ 14.00 / Km | Indica : ₹ 11.00 / Km
• The Kms will be calculated from our office to office.
• The above rates are inclusive of GST
Traveller in CMC Traveller Van in CMC CMC Travels Book Traveller in CMC Force Traveller CMC Tempo Traveller CMC Maxicab in CMC Maxicab CMC
Traveller in CMC Traveller Van in CMC CMC Travels Book Traveller in CMC Force Traveller CMC Tempo Traveller CMC Maxicab in CMC Maxicab CMC
Traveller in CMC Traveller Van in CMC CMC Travels Book Traveller in CMC Force Traveller CMC Tempo Traveller CMC Maxicab in CMC Maxicab CMC
Traveller in CMC Traveller Van in CMC CMC Travels Book Traveller in CMC Force Traveller CMC Tempo Traveller CMC Maxicab in CMC Maxicab CMC