Book CMC to Ooty & Mysore 3 Days - Sightseeing Tour
CMC to Ooty & Mysore Cabs and Vans
Karthi Travels has had its presence in chauffeur-driven car rental sector for more than 30 years. We continuously strive to ensure that we provide reliable, quality and timely cab services. We have wide range of car options right from sedans to hatchbacks and Vans.
You can book any type of car or traveller for your CMC to Ooty & Mysore taxi service depending on your requirement. You can easily book CMC to Ooty & Mysore cabs at Karthi Travels 24/7 without any hassle with our easy-to-use booking interface. Book our CMC to Ooty & Mysore cab service and rest assured you will get quality & reliable services for your Car Rental from CMC to Ooty & Mysore.
Avail CMC to Ooty & Mysore car hire and van hire services at Karthi Travels and enjoy a great trip with family and friends.
Make the best use of the services offered by Karthi Travels at the best rates & experience the relaxing and trouble free journey by hiring CMC Ooty & Mysore or Katpadi Ooty & Mysore taxi at Karthi Travels. With over a decade of experience in car and van rental services, Karthi Travels is the best cab service provider in the industry, if you are planning to book a taxi.
CMC to Ooty & Mysore by Car or Traveller
We will ensure that your journey is comfortable and you may halt at your convenience anytime, anywhere for a short break during the journey on road.
We also launch few offers during certain seasons and holidays. We try to provide you excellent deals from time to time to help you travel in the cheapest possible fares. With our user-friendly website, you can book taxi online in a few simple steps and avail hassle free car and van rental service. Travel from CMC to Ooty & Mysore with Karthi Travels and have a pleasant journey.
CMC to Ooty & Mysore Car and Van Rental Options
At Karthi Travels Car and Van Rentals, you will get many options of car types and travellers to choose for hiring a taxi from CMC to Ooty & Mysore. Some of the popular car models include Indica, Etios, Innova, Traveller and many others. The table below highlights the various car model options available which you can choose for CMC to Ooty & Mysore cab booking.
| | | |
| --- | --- | --- |
| Taxi Type | Capacity | Suitable For |
| Tata Indica | 4 passengers | Budget Travellers |
| Toyota Etios | 4 passengers | Sedans for Small Families |
| Chevrolet Tavera | 6/9 passengers | Travelling in Small Group |
| Force Traveller | Upto 12 passengers | Travelling in Large Group |
With our well-mannered drivers and great fares, we promise you a wonderful journey. For any further details on CMC to Ooty & Mysore car and Van rental, please call us on +919655502002.
CMC to Ooty & Mysore Cab tour
At Karthi Travels you get the best deals for your CMC to Ooty & Mysore cab tour. The cab tour at Karthi Travels is sure to be affordable for you. You can avail the tour depending on the itinerary available.
The details corresponding to the tours opted will be available to you once you make the booking. Karthi Travels's services are also available for local and outstation travel. You can book outstation cabs and vans and travel to popular destination of your choice and interest.
CMC to Ooty & Mysore Taxi Fare
We pride ourselves on transparency. With no hidden charges, great cab service at very affordable rates, we offer you the best prices as compared to any other player in the industry. Karthi Travels believes in making travel extremely convenient for customers and we fully understand that the CMC to Ooty & Mysore cab fare is an important parameter when you make the decision to book a taxi.
Your CMC to Ooty & Mysore taxi fare will never be a burden on your pocket. You can contact us on +919655502002 for any enquiry or to get more details on CMC to Ooty & Mysore cab fare. We will also help you plan your trip in the most efficient way possible.
Karthi Travels's Promise of Quality
1. Affordability: Karthi Travels is the best car and Van rental provider in CMC, if you are looking for an affordable taxi fare from CMC to Ooty & Mysore.
2. Courteous Drivers: We promise to provide you reliable taxi service with our professional drivers.
3. Timely Availability: Karthi Travels always guarantees timely availability of taxi service.
4. Services across CMC: With excellent services for cabs from CMC to Ooty & Mysore Karthi Travels's operation is available across all major towns in and around CMC.
5. Wide Range of Cars: You can choose a taxi or Van from a wide range of cars and Vans like Indica, Tavera Sedan and Traveller.
CMC to Ooty & Mysore tours
Karthi Travels's continuous focus on complying with customer demands and travel needs have positioned us as a true customer-centric player in the road travel/tourism sector. In order to make customers outstation travel truly memorable, we offer several CMC to Ooty & Mysore cab and Van tours. Our website is continuously updated with the new seasonal tours that are launched. You can also call us to explore the various tours from CMC to Ooty & Mysore. After choosing any of these tours from CMC to Ooty & Mysore, you can be assured that you are getting the most efficient rates, the most courteous and experienced drivers as well as Karthi Travels's guaranteed service levels. Customers are provided with options for one way, single day as well as multi-day car and Van tours from CMC to Ooty & Mysore.
About Ooty
Ooty is situated in the Nilgiri Biosphere Reserve. Many of the forested areas and water bodies are off-limits to most visitors to protect this fragile ecosystem. Some areas of the Biosphere Reserve have been earmarked for tourism development, and steps are being undertaken to open these areas to visitors whilst conserving the area. It is situated at an altitude of 2,240 metres (7,350 feet) above sea level.
About Mysore
Mysore, also known as Mysuru, is Karnataka's second biggest city, situated in Southern India. It was the erstwhile capital of the Wodeyar dynasty and is considered the cultural capital of the state. Mysore is the cleanest city in India and one of the most well-planned ones. The people of Mysore are famous for their peaceful attitude and helpful nature.
List of Sightseeing Places in Ooty
Traveller in CMC Traveller Van in CMC CMC Travels Book Traveller in CMC Force Traveller CMC Tempo Traveller CMC Maxicab in CMC Maxicab CMC
Rose Garden
About Rose Garden
The Government Rose Garden (formerly Centenary Rose Park) is the largest rose garden in India. It is situated on the slopes of the Elk Hill in Vijayanagaram of Ooty town. at an altitude of 2200 meters. Today this garden has one of the largest collection of roses in the country with more than 20,000 varieties of roses of 2,800 cultivars. The collection includes hybrid tea roses, Miniature Roses, Polyanthas, Papagena, Floribunda, Ramblers, Yakimour and roses of unusual colours like black and green
Botanical Garden
About Botanical Garden
The 22-acre (89,000 m2) Ooty Botanical Gardens was laid out in 1847 and is maintained by the Government of Tamil Nadu. The Botanical Garden is lush, green, and well-maintained. A flower show along with an exhibition of rare plant species is held every May. The gardens have around a thousand species, both exotic and indigenous, of plants, shrubs, ferns, trees, herbal and bonsai plants. The garden has a 20-million-year-old fossilised tree.
Doddabetta
About Doddabetta
Doddabetta is the highest peak (2,623 m) in the Nilgiris, about 10 km from Ooty. It lies at the junction of the Western and Eastern Ghats surrounded by dense Sholas
Traveller in CMC Traveller Van in CMC CMC Travels Book Traveller in CMC Force Traveller CMC Tempo Traveller CMC Maxicab in CMC Maxicab CMC
Ooty Lake
About Ooty Lake
Ooty lake covers an area of 65 acres.[34] The boat house established alongside the lake, which offers boating facilities to tourists, is a major tourist attraction in Ooty. It was constructed in 1824 by John Sullivan, the first collector of Ooty. The lake was formed by damming the mountain streams flowing down Ooty valley. The lake is set among groves of Eucalyptus trees with a railway line running along one bank. During the summer season in May, boat races and boat pageantry are organised for two days at the lake.
Pine Forest
About Pine Forest
The pine forest situated between Ooty and Thalakunda is a small downhill region where pine trees are arranged in an orderly fashion.
Wenlock Downs (Shooting Spot)
About Doddabetta
Wenlock Downs is a grassland area typical of the original bioscape of the Nilgiris with gently undulating hills.
Traveller in CMC Traveller Van in CMC CMC Travels Book Traveller in CMC Force Traveller CMC Tempo Traveller CMC Maxicab in CMC Maxicab CMC
Pykara Waterfall & Reservoir
About Pykara
Pykara is a river located 19 km from Ooty. The Pykara is considered very sacred by the Todas. The Pykara river rises at Mukurthi peak and passes through a hilly tract, generally keeping to the north and turns to the west after reaching the plateau's edge. The river flows through a series of cascades; and the last two falls of 55 meters and 61 meters are known as Pykara falls. The falls are approximately 6 km from the bridge on the main road. A boat house by the Pykara falls and dam is an added attraction to tourists
List of Sightseeing Places in Mysore
Traveller in CMC Traveller Van in CMC CMC Travels Book Traveller in CMC Force Traveller CMC Tempo Traveller CMC Maxicab in CMC Maxicab CMC
Mysore Palace
About Mysore Palace
Intricately carved rosewood doors and ceilings some with inlaid ivory work, marble figurines, collections of caskets, paintings of the members of the royal family and other objects of personal use exhibit such opulence,though age as worn them out a bit with slight discolouration. On Sundays and national holidays between 7:00 PM-7:45 PM the palace is illuminated by close to 100,000 bulbs. Entry is from the south side. Cameras must be left at the cloak room, now there are no charges to deposit the cameras.Shoes must be left before the entrance for free.Out side palace photography is allowed Rs. 50 for Indian nationals, Rs. 200 for foreigners.
Brindavan Gardens & Krishnaraja Sagara Dam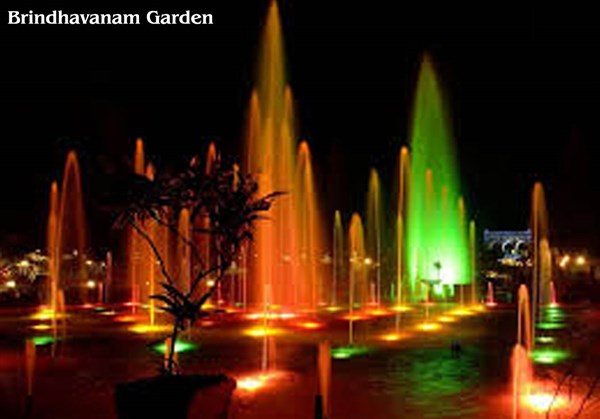 About Brindavan Gardens
Brindavan Gardens and Musical Fountain at the Krishna Raja Sagar Dam. Nice garden full of fountains, in the neighbourhood of Mysore. At 7 PM the "musical fountain" light and music show begins. It is an extremely scenic and well-maintained garden. It also has a great aquarium that has rare varieties of fishes. If you want to go here via bus, the name of the bus stop is: Main Bus Stand, KR circle.
Chamundi Hills
About Chamundi Hills
Chamundi Hills has a temple of Goddess Chamundeshwari (or Chamundi). The huge Nandi sta top are available. Atop the hill, Goddess Chamundi's idol is placed in a beautiful temple with marvelous architecture. It is a plastic free zone. Air Conditioned Volvo buses are available to Chamundi Hill and back from the city bus stand every twenty minutes. The charges are very nominal. Rs. 20 for regular queue (typically longer) . Rs 100 for shorter queue.
Tour Cost
| | |
| --- | --- |
| Cab Type | 3 Days Tour Cost |
| AC Economy (Indica) | Starts from ₹ 14,648.00 |
| AC Tavera | Starts from ₹ 19,740.00 |
| AC Traveller | Starts from ₹ 29,768.00 |
Traveller in CMC Traveller Van in CMC CMC Travels Book Traveller in CMC Force Traveller CMC Tempo Traveller CMC Maxicab in CMC Maxicab CMC
Cost inclusions :
Vehicle Rent, Driver Wages, Diesel, Toll, Inter-state permit and Entry taxes if any
Cost exclusions :
Entry fees in tourists sites, Food, Personal Expenses and Accommodation.
Note :
• We can arrange accommodation on request at discounted price.
• The above tour cost is limited up-to 950 Kms run, overage will be charged as follows
Traveller : ₹ 23.00 / Km | Travera : ₹ 14.00 / Km | Indica : ₹ 11.00 / Km
• The Kms will be calculated from our office to office.
• The above rates are inclusive of GST
Traveller in CMC Traveller Van in CMC CMC Travels Book Traveller in CMC Force Traveller CMC Tempo Traveller CMC Maxicab in CMC Maxicab CMC
Traveller in CMC Traveller Van in CMC CMC Travels Book Traveller in CMC Force Traveller CMC Tempo Traveller CMC Maxicab in CMC Maxicab CMC
Traveller in CMC Traveller Van in CMC CMC Travels Book Traveller in CMC Force Traveller CMC Tempo Traveller CMC Maxicab in CMC Maxicab CMC
Traveller in CMC Traveller Van in CMC CMC Travels Book Traveller in CMC Force Traveller CMC Tempo Traveller CMC Maxicab in CMC Maxicab CMC