Book Katpadi to Arupadai Veedu Temples 3 Days Tour
About Arupadai Veedu
The Six Abodes of Murugan are six temples situated in the state of Tamil Nadu in South India. The god is known by different names such as Kartikeya, Skanda, Vadivela and Muruga at various temples. The six most sacred abodes of Murugan was mentioned in Tamil sangam literature, "Thirumurugatrupadai", written by Nakkeerar and in "Thiruppugazh", written by Arunagirinathar. The six abodes are Thiruthani, Swamimalai, Palani, Pazhamudircholai, Thirupparankunram and Thiruchendur.
The story of Lord Murugan is described in Skanda Purana. According to the legend, in the olden days the demon Soorapadman tortured the Devas, who went to complain to Lord Vishnu and Brahma. They assigned Kamadeva to awake Lord Shiva from his penance, who later gave birth to Kartikeya. Karthikeya killed Soorapadman and saved the devas. Muruga is depicted as the god of love and war. Kartikeya married Valli by love and married Deivayanai by winning the war held at Tiruchendur.
In Tamil literature five types of lands are explained. They are Kurinji (mountainous region), Mullai (forest region), Marutham (agricultural region), Neithal (coastal region) and Palai (desert region). Separate gods for these land types are clearly told in Sangam literature. According to the literature Lord Muruga is the god of mountainous region.
Arunagirinathar was a 15th-century Tamil poet born in Tiruvannamalai. He spent his early years as a rioter and seducer of women. After ruining his health, he tried to commit suicide by throwing himself from the northern tower of Annamalaiyar Temple, but was saved by the grace of god Murugan. He became a staunch devotee and composed Tamil hymns glorifying Murugan, the most notable being Thirupugazh. Arunagirinathar visited various Murugan temples and on his way back to Tiruvannamalai, visited Palani and sung praises about Swaminathaswamy. Tiruparamkundram is considered the first of the six abodes, while Palani is considered the most prominent abodes of Muruga.
One of the main traditions of the six temples, is the tonsuring of devotees, who vow to discard their hair in imitation of the Palani deity. Another is the anointing of the head of the presiding deity's idol with sandalwood paste, at night, prior to the temple being closed for the day. The paste, upon being allowed to stay overnight, is said to acquire medicinal properties, and is much sought after and distributed to devotees, as rakkāla chandaṇam. Devotees carry kavadi, an ornamental mount decked with flowers, glazed paper and tinsel work and wearing ochre clothes themselves on foot from long distances is a commonly followed worship practice.
Katpadi to Arupadai Veedu Temples Cabs and Vans
Arupadai Veedu is an illustration of the diverse styles of temple building in the Indian subcontinent. The Chalukyan, Dravidian, Nagara and the Orissa idiom are seen in the construction of temples in this southern state. Tirupati is the best known of the temples of Arupadai Veedu, attracting millions of pilgrims throughout the year.
Karthi Travels has had its presence in chauffeur-driven car rental sector for more than 30 years. We continuously strive to ensure that we provide reliable, quality and timely cab rental and van rental services. We have wide range of car and van options right from sedans to hatchbacks and Vans.
You can book any type of car or traveller for your Katpadi to Arupadai Veedu Temples taxi service depending on your requirement. You can easily book Katpadi to Arupadai Veedu Temples cabs at Karthi Travels 24/7 without any hassle with our easy-to-use booking interface. Book our Katpadi to Arupadai Veedu Temples cab service and rest assured you will get quality & reliable services for your Car Rental and van rental from Katpadi to Arupadai Veedu Temples Tour .
Avail Katpadi to Arupadai Veedu Temples car hire and van hire services at Karthi Travels and enjoy a great trip with family and friends.
Make the best use of the services offered by Karthi Travels at the best rates & experience the relaxing and trouble free journey by hiring Katpadi Arupadai Veedu Temples taxi at Karthi Travels. With over a decade of experience in car and van rental services, Karthi Travels is the best cab service provider in the industry, if you are planning to book a taxi or traveller.
Katpadi to Arupadai Veedu Temples by Car or Traveller
We also launch few offers during certain seasons and holidays. We try to provide you excellent deals from time to time to help you travel in the cheapest possible fares. With our user-friendly website, you can book taxi and book traveller online in a few simple steps and avail hassle free car and van rental service. Travel from Katpadi to Arupadai Veedu Temples with Karthi Travels and have a pleasant journey.
Katpadi to Arupadai Veedu Temples Car and Van Rental Options
At Karthi Travels Car and Van Rentals, you will get many options of car types and travellers to choose for hiring a taxi or traveller from Katpadi to Arupadai Veedu Temples. Some of the popular car models include Indica, Etios, Innova, Traveller and many others. The table below highlights the various car model options available which you can choose for Katpadi to Arupadai Veedu Temples Tour cab booking.
| | | |
| --- | --- | --- |
| Taxi Type | Capacity | Suitable For |
| Tata Indica | 4 passengers | Budget Travellers |
| Toyota Etios | 4 passengers | Sedans for Small Families |
| Chevrolet Tavera | 6/9 passengers | Travelling in Small Group |
| Force Traveller | Upto 12 passengers | Travelling in Large Group |
With our well-mannered drivers and great fares, we promise you a wonderful journey. For any further details on Katpadi tp Arupadai Veedu Temples Tour car and Van rental, please call us on +919655502002.
Katpadi to Arupadai Veedu Temples Cab Tour
At Karthi Travels you get the best deals for your Katpadi to Arupadai Veedu Temples Tour cab tour. The cab tour at Karthi Travels is sure to be affordable for you. You can avail the tour depending on the itinerary available.
The details corresponding to the tours opted will be available to you once you make the booking. Karthi Travels's services are also available for local and outstation travel. You can book outstation cabs and vans and travel to popular destination of your choice and interest.
Katpadi to Arupadai Veedu Temples Taxi Fare
We pride ourselves on transparency. With no hidden charges, great cab service at very affordable rates, we offer you the best prices as compared to any other player in the industry. Karthi Travels believes in making travel extremely convenient for customers and we fully understand that the Katpadi to Arupadai Veedu Temples cab fare is an important parameter when you make the decision to book a taxi.
Your Katpadi to Arupadai Veedu Temples taxi fare will never be a burden on your pocket. You can contact us on +919655502002 for any enquiry or to get more details on Katpadi to Arupadai Veedu Temples cab fare. We will also help you plan your trip in the most efficient way possible.
Karthi Travels's Promise of Quality
1. Affordability: Karthi Travels is the best car and Van rental provider in Katpadi, if you are looking for an affordable taxi fare from Katpadi to Arupadai Veedu Temples Tour .
2. Courteous Drivers: We promise to provide you reliable taxi service with our professional drivers.
3. Timely Availability: Karthi Travels always guarantees timely availability of taxi service.
4. Services across Katpadi: With excellent services for cabs from Katpadi to Arupadai Veedu Temples Tour Karthi Travels's operation is available across all major towns in and around Katpadi.
5. Wide Range of Cars: You can choose a taxi or Van from a wide range of cars and Vans like Indica, Tavera Sedan and Traveller.
Katpadi to Arupadai Veedu Temples Tour
Karthi Travels's continuous focus on complying with customer demands and travel needs have positioned us as a true customer-centric player in the road travel/tourism sector. In order to make customers outstation travel truly memorable, we offer several Katpadi to Arupadai Veedu Temples cab and Van tours. Our website is continuously updated with the new seasonal tours that are launched. You can also call us to explore the various tour tours from Katpadi to Arupadai Veedu Temples . After choosing any of these tours from Katpadi to Arupadai Veedu Temples , you can be assured that you are getting the most efficient rates, the most courteous and experienced drivers as well as Karthi Travels's guaranteed service levels. Customers are provided with options for one way, single day as well as multi-day car and Van tours from Katpadi to Arupadai Veedu Temples.
Temples list :
Traveller in Katpadi Traveller Van in Katpadi Katpadi Travels Book Traveller in Katpadi Force Traveller Katpadi Tempo Traveller Katpadi Maxicab in Katpadi Maxicab Katpadi
Arulmigu Shri Dhandayuthapani Temple
Palani
About Arulmigu Shri Dhandayuthapani Temple
Lord Murugan is the deity of the Tamil Land. Palani (Tiru Avinankudi) is the third Padai Veedu. The temple at Palani is an ancient one, situated at an elevation of 1500 feet above sea level. The deity of Palani is known as Dandayudhapani Swami, the Lord having the Staff in his Hand. The deity at the sanctum sanctorum is made out of an amalgam of nine minerals popularly called Navabashana. The deity is in a standing position with a baton in his hand. He has the look of a person who has renounced all worldly pomp. He has just a loincloth besides the baton. He is a mute messenger of the great precept 'Renounce all to reach Me'. The icon is unique in the whole world. It was made by siddha Bhogar by combining nine poisonous substances (navabashana). Murugan signifies beauty and Lord Murugan of Kurinji land is the god of Beauty and Youth.
Arulmigu Solaimalai Murugan Temple
Pazhamudircholai
Arulmigu Solaimalai Murugan Temple
Pazhamudircholai Murugan Temple is a Hindu temple, located about 25 kilometres north of Madurai, India atop a hill covered with dense forests. One of the six important abodes (Arupadaiveedu) of Lord Muruga, it is close to the Vishnu temple of Azhagar Kovil. It is said that the Azhagar Kovil was the actual temple for the main deity of the temple, and the deity was later shifted or relocated to Pazhamudircholai during Thirumalai Nayak's rule in Madurai.
Arulmigu Subramanya Swamy Temple
Thiruparankundram
About Arulmigu Subramanya Swamy Temple
Of the six army camp temples (Aaru Padai Veedu) of Lord Muruga, this is the first temple. While Lord Muruga graces in a standing form in other five army camp temples, He graces in a sitting, wedding form with His consort Deivanai. Maharshi Narada, Indira the king of Devas, Brahmma the Creator are also around Him. Goddess of Wisdom Saraswathi without Her Veena, and Savithri are by His side while Sun, Moon, Gandharvas a community in the upper world skilled in the art of music, are above Him. The other vehicles of Lord Muruga, the sheep and the elephant are below Him. Only a scented paste called punugu is applied on the Lord as this is a cave temple.

Abishek is performed only to the Vel weapon of Lord Muruga as this is a cave temple. The Vel is taken to the Kasi Viswanatha shrine in the hill on the last Saturday of Purattasi month (September-October). This is the only temple where abishek is performed to Vel. More importance is attached to Vel as the Lord came to this place victoriously after defeating the demon Surpanma with the power of this weapon. Recently, a golden car has been made for the temple. As a prayer commitment to take Muruga in procession on this golden car, devotees may register in advance.
Traveller in Katpadi Traveller Van in Katpadi Katpadi Travels Book Traveller in Katpadi Force Traveller Katpadi Tempo Traveller Katpadi Maxicab in Katpadi Maxicab Katpadi
Shri Subramanya Swamy Temple
Tiruchendur
About Shri Subramanya Swamy Temple
Thiruchendur Murugan temple is known as the second Arupadai Veedu of Lord Muruga. Lord Muruga won the battle with the asura, Surapadma and worshipped Lord Shiva in this sacred place. The temple is situated along the shores of the Bay of Bengal.

Normally, the Raja Gopuram will be in the eastern side of temples in Tamil Nadu. But in Thiruchendur alone the Raja Gopuram is in the western side. It is said that the Raja Gopuram was not erected on the eastern side since the sea is very close in the eastern side.

Mela Gopuram has nine storeys and it is about 137 feet high above Yalimattam, 90 feet long north to south and 65 feet broad east to west. At the top of the Gopuram the width is 20 feet and the length is 49 feet. To indicate that the Gopuram consists of 9 storeys there are nine Kalasams (sacred copper pots) at the top of the Gopuram.
Arulmigu Swamynatha Swamy Temple
Swamimalai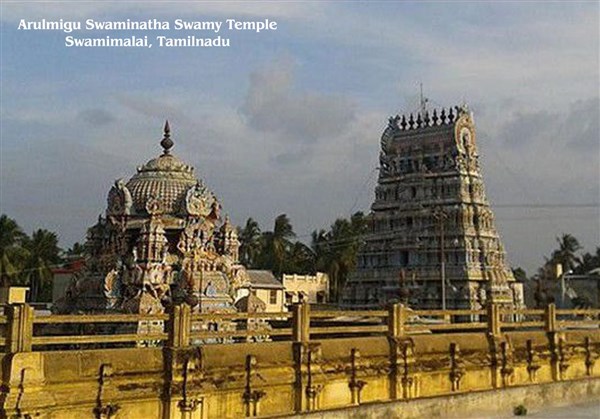 About Arulmigu Swamynatha Swamy Temple
The temple has three 'Gopurams' with three 'Praharams'. The 'Gopuram' on the south side of the temple is decorated with statues and contains five storeys while the other two entrances have no towers above them.

The arrangement of the Praharam (also spelt as Prahar) is peculiar in this temple. The first Praharam is at the base of the hill, the second halfway up the hill and the third at the top surrounding the sanctum. Once you pass the 'Raja Gopuram' and the 'KalyanaMandapam' you reach the shrine dedicated to Goddess Sakti at the base. In addition to this there are other shrines for various other deities and the well with 'vajra Teertha'.

Steps lead from here upwards towards the top of the hill. When you reach half way up the hill there is a small area where beautiful statues depicting the legend associated with this temple have been created. Further above is the second Praharam. You climb further to reach the level where the shrine for Lord Swaminathan is built. There are various shrines to other deities on the first Praharam.
Arulmigu Subramanya Swamy Temple
Tiruttani
About Arulmigu Subramanya Swamy Temple
This temple is one among the six Padaiveedu's of Lord Muruga. ie. the 5th Padaiveedu..Thai Poosam and Panguni Uthiram festivals are very famous festivals and large number of devotees coming here at that time.Tiruttani constitutes one of the six Padai Veedu shrines of Skanda (Lord Subramanya), and it represents the site where Subramanya stayed after destroying the demon Surapadman. Tiruttani is said to be the place where the Lord Subramanya married Valli - one of his two consorts


Tour Cost
| | |
| --- | --- |
| Cab Type | Tour Cost |
| AC Economy (Indica) | Starts from ₹ 21,735.00 |
| AC Tavera | Starts from ₹ 27,090.00 |
| AC Traveller | Starts from ₹ 44,940.00 |
Traveller in Katpadi Traveller Van in Katpadi Katpadi Travels Book Traveller in Katpadi Force Traveller Katpadi Tempo Traveller Katpadi Maxicab in Katpadi Maxicab Katpadi
Cost inclusions :
Vehicle Rent, Driver Wages, Diesel, Toll, Inter-state permit and Entry taxes if any
Cost exclusions :
Entry fees in tourists sites, Food, Personal Expenses and Accommodation.
Note :
• We can arrange accommodation on request at discounted price.
• The above tour cost is limited up-to 1,700 Kms run, overage will be charged as follows
Traveller : ₹ 24.00 / Km | Travera : ₹ 14.00 / Km | Indica : ₹ 11.00 / Km
• The Kms will be calculated from our office to office.
• The above rates are inclusive of GST
Traveller in Katpadi Traveller Van in Katpadi Katpadi Travels Book Traveller in Katpadi Force Traveller Katpadi Tempo Traveller Katpadi Maxicab in Katpadi Maxicab Katpadi
Traveller in Katpadi Traveller Van in Katpadi Katpadi Travels Book Traveller in Katpadi Force Traveller Katpadi Tempo Traveller Katpadi Maxicab in Katpadi Maxicab Katpadi
Traveller in Katpadi Traveller Van in Katpadi Katpadi Travels Book Traveller in Katpadi Force Traveller Katpadi Tempo Traveller Katpadi Maxicab in Katpadi Maxicab Katpadi
Traveller in Katpadi Traveller Van in Katpadi Katpadi Travels Book Traveller in Katpadi Force Traveller Katpadi Tempo Traveller Katpadi Maxicab in Katpadi Maxicab Katpadi